Going back to both the literal and figurative roots that grew from fields to classrooms, seeds to trees, that gave rise to cultivating the practice of one of two of the system's weapons, the Long Pole. Sifu Fernandez takes an organic look at the practice of the training implement, staging the video presentation of this production outdoors amongst the elements and forest growth somewhere in Italy, sharing his unique knowledge and interpretation of the form and relating exercises. Settle in and get a handle on the 2.6-metre pole supported by a high definition 71 minutes of work.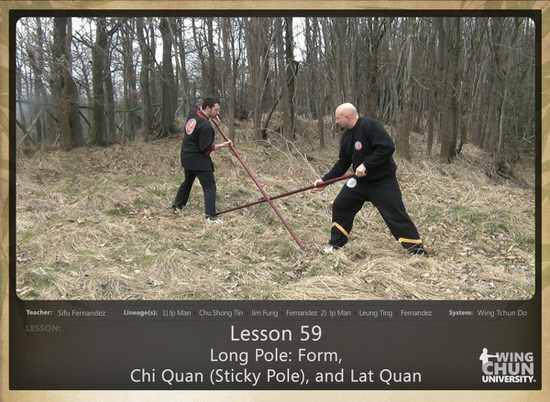 Wielding the device, Sifu Fernandez prefaces any play of the Long Pole with some brief and simple guidelines for the practising audience to follow, regarding how one should grip, adopt the correct posture, and relative balance within the hands.
Wasting little time to get to the core points, the video immediately flows into the demonstration of the Long Pole form as he plays it in his Wing Tchun Do system with the accompanying terminology that identifies each technique within the form, first with diligent play and detail, followed with it being performed in real time for the example of pacing.
Sifu Fernandez then moves onto Chi Quan, "which is like Chi Sau with the Long Pole… (and learning) to transfer energy long distance… and not force these techniques with the arms". Pairing up with a supporting student, the viewer is provided with the first of several "Sticky Pole" exercises to encourage the development of one's sensitivities to heighten reaction timing and control the training partner's and/or opponent's weapon when both parties are engaged in the practice or confrontation exchange. Throughout this section, Sifu Fernandez imparts what details to be aware of to expand the awareness of the exchange in mind and body. These points address the good habits that one should be employing, as well as recognise how to adapt and counter the actions and reactions of another throughout the array of exercises and drills covering this training method.
The hands and arm activity has been given considerable attention in setting the stage to employ the corresponding footwork to engage, enact and support the drills shown to cultivate the potential of a practitioner's proficiency with the Long Pole. Appropriate steps are taken to support the evolution into the next phase.
Lat Quan is the final module presented in this video, offering "to develop a heavy striking ability." The difference of the two modules is that both parties are now in a disconnected engagement, instead of the previously connected one through Chi Quan to enact the developed techniques acquired from the latter's drilling into practical applications that afford one an opportunity to attack designated points designed to disable the opposing individual.
This quick and to-the-point submission moves quickly through its content to keep the work, and practice, flowing from technique to action to develop the essential weapon that is one's self.
Sifu Fernandez – WingTchunDo – Lesson 59 – Long Pole – Form, Chi Quan (Sticky Pole), and Lat Quan
Language: English
Running Time: Approx. 1 hours 11 minutes.
Format: Digital Download
Availability: Everything Wing Chun Instant Access and the Wing Chun University
Review by: Dwight Hennings
Link to EWC: https://www.everythingwingchun.com/DOWNLOAD-Sifu-Fernandez-WTD-59-Long-Pole-2-p/pp-wcu_wtd-59-pole-form-apps.htm
Links to Digital Store: Preview this video on Everything Wing Chun Instant Access