Some of you may not have heard of Sifu Fernandez, but I'm sure most of you recognise the name Fighterman. Sifu Fernandez began his martial arts training in 1972 under the direct Ip Man lineage of Grandmaster Tsui Shun Tin in Australia. He also trained under the late Sifu Jim Fung from 1973 till the early 1990s. In 1992, Sifu Fernandez started to learn Leung Ting Wing Tsun under Sifu Stefan Fischer and became his personal student for seven years. He later moved back to Europe and became a private student of Sifu Cuciuffo, Sifu Kernspecht, and finally, Sifu Leung Ting. Wing Tchun Do is Sifu Fernandez's own interpretation of what he has discovered through his personal journey.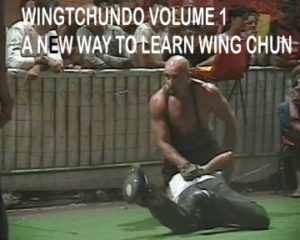 Starting with Module 1, we begin with the basics such as connecting with the spine, learning to relax, and dynamic stretching. Sifu Fernandez clearly has a good knowledge of anatomy, which helps when he is describing the various body structures involved. The first module finishes with some basic applications for common attacks and teaches us not to rely on chain punching, but to learn to adapt and change.
Module 2 and 3 are where Sifu Fernandez delves into his Chi Sao system with the message being that during Chi Sao practise you must always have a reference point for actual combat. Concepts such as centreline theory, controlling the centre of mass, and forward pressure are all explored in this section too, with more emphasis on relaxation. Another concept that resonates throughout this module is the "Torsion Power", which is using the torque of the waist to get explosiveness into your attacks. Good stuff.
The last Module is a "Bonus Footage" section where we get to see Sifu Fernandez give some private lessons to his student Antonio Saracino who is a MMA light heavy weight champion. Although most of this section is in Italian, subtitles are supplied. There are some good drills on this part of the DVD, which wraps up the DVD nicely.
Overall, it's a great DVD set. I do think it would suit an intermediate student rather than a complete beginner, and maybe someone with a WT background may get more from it than I did. However, it was a good quality video with clear sound and lots of down-to-earth, good advice delivered with confidence. Top stuff.
Buy at Sifu Fernandez's Wing Tchun Do DVD at:
EverythingWingChun.com or Download it Digitally
Language: English
Running Time: Approx. 3 hours.
Format: NTSC/PAL/MP4
Region: 0
Number of Discs: 1 (4 video files)
Availability: DVD & EWC Instant Access Download
Review by: James Woodcock