Quick Summary:
Instruction on the long pole is presented in a two volume set. Volume 1 covers details related to the poles dimensions, how long it should be and how the pole is held, etc. And how one should use the long pole, as a method in strength training and skill development. Pole footwork is demonstrated from different stance positions, (Ma Bow and Cat Stance) and how one should move the long pole, while changing direction from side to side. A number of basic drills are presented for further preparation and development, followed up with a breakdown of the pole sequential movements. Then a complete demonstration of the Look Deem Boon Gwun Long Pole form is given. The last section of this video presents, a brief description of the 6 ½ striking method of attack and defense followed with a detailed, step by step description of techniques, as they are applied in a pole vs pole combat situation
Comments on Production:
This production is about the same quality as Randy Williams' other recent instructional videos. They contain a lot of information via a didactic style of pedagogy, with the intent of installing Wing Chun Knowledge through lengthy descriptions of technique and there applications. Furthermore, this video organizes, all lessons into specific sections for review allowing a student to easily navigate, from one training set to another.
Review Comments: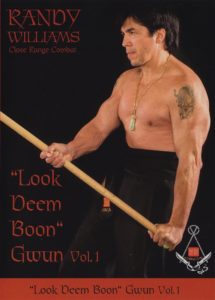 I have mentioned before, that adding music such as "hip hop" or otherwise, is totally unnecessary in a training video of Wing Chun. Unfortunately, it dilutes the learning process while intending to visually teach, basic training skills and knowledge of fundamental techniques. Instructional videos in the martial arts, are expected to show complex movement and their applications in a manner which will support the development of awareness and focused effort.
Wu Shu training requires students to engage themselves, in a process of learning as an incisive study of a teacher's motion. The constant verbose chatter through this video and the music, which is weaved through the performance of the Long Pole form at the beginning and end of the video, offers no secondary benefit. It's an unnecessary distraction for serious study of Chinese Martial Arts or Wu Shu. However, this video does provide a useful breakdown of the postures and movements associated with the Long Pole as a weapon. Unfortunately, the instruction appears so staged in all phases of its presentation that one is left with a sense of doubt if those persons demonstrating the form express an exceptional knowledge and skill within the tradition of Chinese Wu Shu.
Now, one might question, my qualifications in making such critical remarks. I've been involved with the martial arts, since 1963. Auspiciously, I was one of the lucky ones, who was introduced to "Kung Fu" in 1965 by Sifu Rick Jigerang, in Concord, California, who had moved from Hawaii as a young men. In those days, it's safe to say, that most Americans, had never heard of the Chinese Martial Art of Wu Shu, called Kung Fu. I will not go through a litany of my martial arts experience, but I will say, I've been teaching Judo, Tai Chi and Wing Chun, since the seventies. And taught Wing Chun to Chinese Students, at Central South University, in Changsha, Hunan Province, in the Peoples Republic of China, as part of the University's intramural sports program.
Review Specifications:
Reviewer: George Hernandez
Presentation Title: Look Deem Boon Gwun – Vol 1
Presenters: Randy Williams
Date: 5/15/2015
Technical Specifications:
Language: English
Format: DVD or Digital Download
DVD Format: NTSC Region 0
Resolution (download only): 720p
Running Time:1 hour: 5 Minutes
Ratings (1-5 scale):
Sound Quality: 4
Video Quality: 4
Total Production Score: 8
Subject/Instruction Rating
Subject matter: 4
Instruction Quality: 4
Total Subject/Instruction Rating: 8
Reviewers Rating: 3
Total Score: 19/25= 76%
Buy Now From Everything Wing Chun Instant Access
Buy the DVD Now From Everything Wing Chun