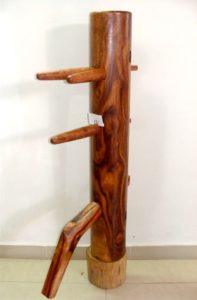 Although still unfinished, this article is being posted because we felt is still contains very useful information. This article is still considered a draft, but hopefully you can get some good info from it until we have time to boil it down and finish. – EWC
Buick Yip has been making solid log dummies since about 2002 or so. We've sold his dummies on Everything Wing Chun since 2005. Buick's dummies were relatively unknown to the larger Wing Chun community at that time – but thanks to the work of Everything Wing Chun and Buick's commitment to quality, his dummies have now become some of the most famous in the world.
This post will attempt to cover some basic information on solid body dummies, like Buick's, and give you our thoughts on the correct humidity levels to keep a dummy and any WHY we think the way we do.
There has always been some misunderstandings about solid log dummies on the part of customers, who expect the wood to act like a cheaper laminate dummy.  The laminate dummies are made from glued boards that are usually kiln dried and from the outside rings of a tree.  A tree, however, has 2 types of cells – the ones on the outside that hold the tree up, and the ones in the center that pass nutrients up.  Solid log, or "solid body", means that the trunk of the dummy is made from a solid log – it is one piece from the core of a tree… So it has both type cells – and they act differently in different circumstances.
Solid body dummies are really the most beautiful and most traditional kind of dummy you can own. But just like a high-end katana that one must keep oiled (as opposed to your common butter knife), high-end dummies require more care, not less. The risk with these solid dummies is that whenever they change climates or humidity there is the chance of the dummy body cracking. If you are going to drop $1500-$3000 on a Buick dummy, you need to know how any why this happens and be prepared for it – or else you can't prevent it.
In Part 1 I will attempt to give you an overview of why solid logs crack (it's called "Checking" in the industry). In Part 2 I will detail some of my own semi-scientific testing on about $10,000 worth of Buick's dummies. In Part 3 I will tell you what I think the ideal humidity levels for Buick's dummies are and why. Read Full Post