Do you want a wall mount dummy for the "spring energy" but can't mount one where you live? Check out Warrior Martial Art Supply's new Wooden Dummy with Corner Stand! It is very sturdy and fits nicely into the corner of your room and feels like a wall mount dummy when you train. It is also the most sturdy of all the floor stands and is unique in that it can be mounted to a wall if you desire.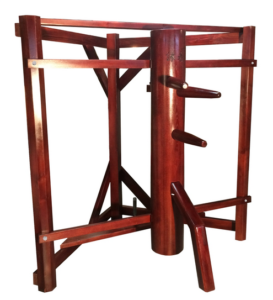 The weight tray at bottom comes with pipe and flange to stack either standard or Olympic size weights for a counter balance. Height for dummy can be set by user.
This solid hand crafted mook jong is designed for the traditional Wing Chun practitioner. The dummy arms and leg are made from 100% hardwood ash. Trunk is made with a Douglas fir core and hardwood ash 1.5 inch thick exterior. Ash is used to make baseball bats and axe handles.
The dummy is 60″ tall, with 9″ diameter, and weighs 85 lbs. The spacing between upper arms and middle is 8.5 inches, and mid arm to leg space is the same. Leg is 3″ x 3″ thick. Dummy arm pegs are 2″ x 1.5/8″ much stronger then the standard 1.5″ by 1.5″.
This dummy has slat holes for mounting on a frame stand (like a the one pictured or a wall stand) as well as a hollow in the bottom so it can be used on a free-standing portable stand. This way you can always buy a different Warrior stand in the future (if you desire) without having to buy a new dummy.