One of our customers, George Hernandez, has written another in depth Wing Chun DVD review. This time he watched "Baat Cham Dao (BJD) Apps Vol 1/8 (Application Set 1 GAP-DAO)" By Sifus Taner and Graziano. If you are looking for a DVD to help you study the Butterfly Swords, make sure to read this first!
Lets see what he had to say:
Summary: This video provides instruction in the "Baat Cham Dao" – Wing Chun "Butterfly Swords" showing applications against the spear. Presented by Sifus Taner and Graziano.
Comments on Production: There was some background noise plainly audible as the videographer adjusted the camera for the next shot. However, it was not as prominent as in the first video of this series. But I found it tolerable, however, nothing lost in the production's quality of instruction.
Review Comments:
This training video is one of several in a series teaching applications based on the weapon an opponent is using. A weapon used against you and knowing something about its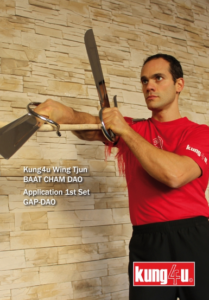 characteristics is important. The Sifus offer a few, but brief demonstrations showing the reasoning behind applying technique against the Long Pole versus the Spear. The most important advice given for defense against a spear was the angle of approach and how one move's as an opponent changes their position. One has to move with speed with proper change in posture, while positioning the Butterfly Swords suitably. Developing looseness, in the hips is an essential quality all students should gain.
There is Wu Shu exercises designed for this training purpose, of opening in the large joints of the hips or "Kua." However, I'm not sure if the Sifus teach this important preparatory training, in their other instructional videos. In applying technique against the spear, one's practice must be extensive; the spear can move fast, by one who is skilled in its use; much faster than displayed in this video. It should be kept in mind, that the spear can be used in attacking one's lower extremities other than just the upper body. The comment was made by Sifu Granziano, that one should practice the techniques "thousands of times." This is good advice! Although, not mentioned, during the trapping technique of the spear, its successful execution is based on feel and not just on the sequence. Of course, when you're at the level of using the Butterfly Swords, your sense of feel should be keen. Another important point, brought out by the Sifus, is that one must establish a bridge in employing an application, "if there's no bridge, you make one." "That is look for the angles."
This is an excellent video; unfortunately not everything can be covered, that private or group instruction can provide. Video instruction is an important medium to learn and improve one's skills. However; during a video's production sometimes one gets caught up in the narrative and makes slight errors in technique. Consequently one must be aware of what they're doing, while talking through an application. While Sifu Granziano was explaining a technique, he came slightly up and forward…as if he was reaching a bit. This error in movement was very slight, but noticeable. However, it may not be all that important, when using a very sharp weapon while making your mark. This is not a criticism of Sifus Granizano's skills; it has to do with pedagogy while demonstrating a technique during production.
I recommend this video and their subsequent training series to any practitioner, who desires to learn Butterfly Sword techniques, against different kinds of weapons, other than just learning the Baat Cham Dao form itself.
Reviewer: George Hernandez
Presentation Title: Baat Cham Dao (BJD) Apps Vol 1/8 (Application Set 1 GAP-DAO)
Presenters: Sifus Taner and Graziano
Date: February 27, 2015
Technical Specifications:
Language: English
Format: DVD or Digital Download
DVD Format: NTSC Region 0
Resolution (download only): 720p
Running Time: 32 Mins
Ratings (1-5 scale):
Sound Quality: 4
Video Quality:  4
Total Production Score: 8
Subject matter: 5
Instruction Quality: 5
Total Teaching Rating: 10
Reviewers Rating: 5
Total Score 23/25= 92%
Want to learn more or buy the DVD?
Buy Now From Everything Wing Chun Instant Access
Buy the DVD Now From Everything Wing Chun