The coveted and revered weapons of the Wing Chun system are often a conscious, and subconscious, benchmark that one has attained a level of proficiency with their practice that they've been extended the privilege to learn the first weapon of two, the Luk Dim Boon Kwan, the lumbering training implement that heightens one's practice and conditioning to new lengths either alone or with the support of a training partner to practise the variety of drills and applications. Sifus Taner and Graziano cover the "six-and-a-half points", and more, in this well-produced, modern production that has a 100-minute runtime with 1080p resolution.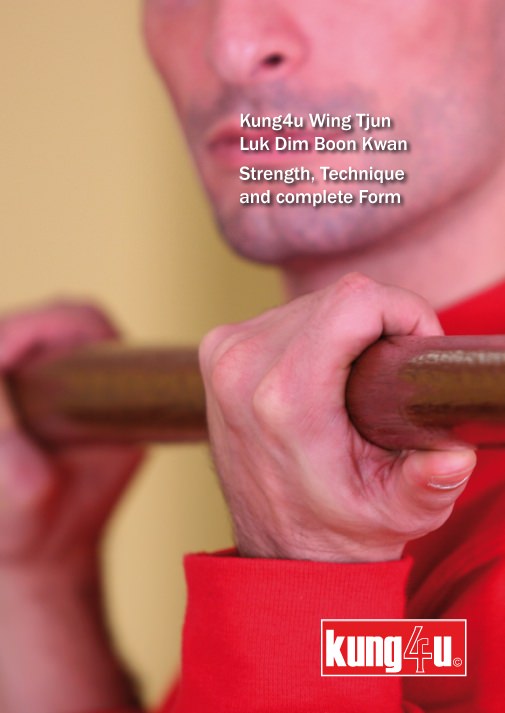 This video instalment is in two sections: "Strength and Technique" and "Form". With the introductions and preface aside, things point to getting to work with the pole, with performance development getting a thorough overview through the first half of the first section. The design of each is geared toward developing and conditioning the body, working from the ground up, from the Horse Stance, to grip, to wielding, and employing the pole.
Sifu Graziano takes centre stage to get things working with strengthening exercises because "in order to get a very good handling of the pole you need some good strength exercises." Similar to a personal trainer, attention to the details of one's postures and positions are also given the attention to avert injury, while working toward maximising the effects of the invested work. Each method of strength and conditioning development drills complement and build upon the other with increased demands of the body and mind, challenging the individual's commitment and focus to support the weapon with control and stability.
With the burn firmly searing through the body, the practitioner will be relieved to get to more of the fun aspects of training the Luk Dim Boon Kwan by wielding the weapon to practise the form, techniques and partner drills headed by Sifu Taner. "If you have the legs with the hands then you'll have what you need to work with the pole," communicates the followup presenter, which sends a clear message of how seriously they, and any practitioner, should be investing their efforts to train the weapon well, adding the fundamental "pole punching drill" to the work.
Feet firm, hips balanced and grip tight, it's time to work through core techniques and drills. Nothing fancy, nothing flashy, just the fundamental Luk Dim Boon Kwan sequence of drills that are, mostly, similar from lineage to lineage, exploring the points of application as found in the form. Ultimately, uniform coordination with the apparatus will heighten one's overall power and coordination.
Sifus Taner and Graziano do a good job sharing a good platform of fundamentals as is consistent with learning the system. And credit to their passion and humility in their closing statements, they enjoy offering what they can, hoping to expand one's learning. Points struck and made from stance to finish.
Sifu Taner & Sifu Graziano – 25 – Luk Dim Boon Kwan
Preview this video on Everything Wing Chun Instant Access


Language: English
Running Time: Approx. 1 hour 40 mins.
Format: Digital Download
Availability: Everything Wing Chun Instant Access
Review by: Dwight Hennings