Wing Chun video submissions are often presented in a few distinct formats from seminar filmed footage to formatted presentations segmented into chapters of subject context relative to the subject(s) at hand. This offering from Sifu Darrell Jordan, with the featured presenter being Sifu Paulo Lampis, is a departure from those formats with a raw, home video file shot in the residence of whoever is hosting for private training from 1995. The resulting video quality is on the grainier side over the course of what is virtually a non-stop four-hour runtime. Thanks to today's digital media, it won't require tedious fast forwarding and/or rewinding of the once staple VHS players from that generation, for the audience to review the content of interest.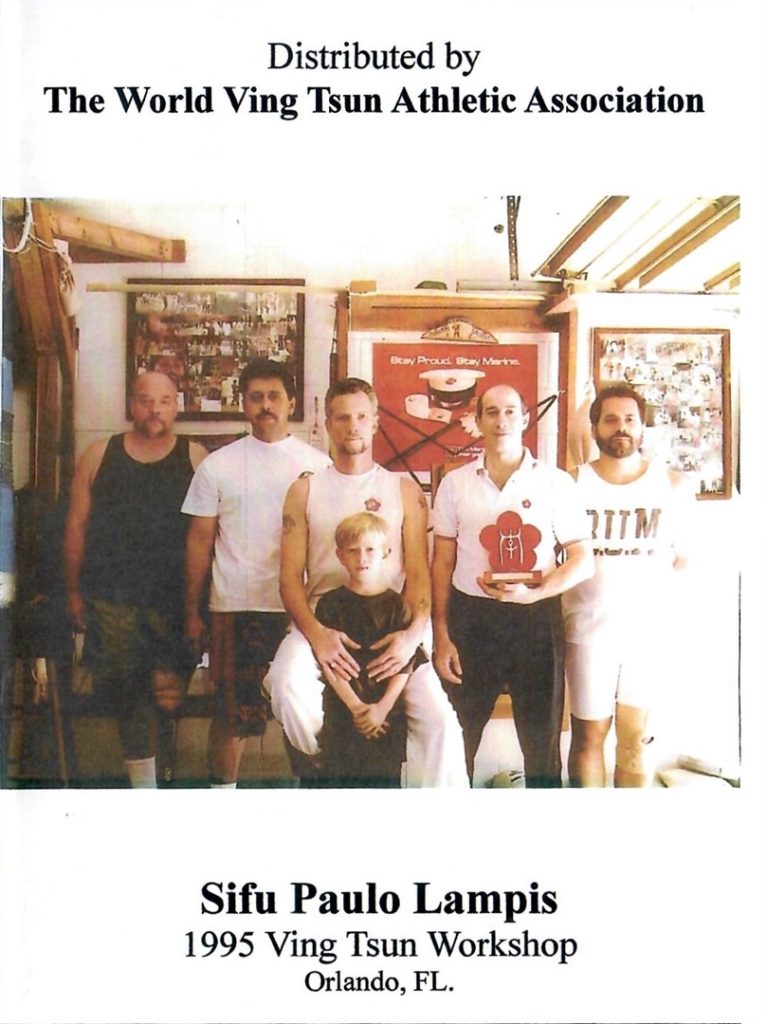 Sifu Paulo Lampis, as with most presenters, works from the ground up on establishing the foundations and fundamentals of the system to those he is training. However, what makes this raw home video offering more insightful is the personal aspect in which explanations not only come with more detail, but also with supporting dialogue, demonstration, and exploration that parallels any classroom or training environment where the subtleties are given more attention. Siu Nim Tau is forfeited in demonstration, electing to explore its components in their understanding and applications as is relative to the presenter's training methods.
As is to form with personal video archive footage, there is no set format to the flow of information or content. Subject matter can jump from topic to topic as the instructor bridges from form to application to Chi Sau, relation back to concept and theory depending on what is recognised in the moment that catches his attention that the attending practitioners require more attention to development with all points ultimately referring back to fundamentals. Some of Sifu Lampis' explanations are accented with passion.
Evolving the day's regimen from the fundamentals, the video eventually finds its way to partner drilling via Single- Hand Chi Sau, Laap Sau and Two-Hand Chi Sau. Theories and ideas are in continuous submission throughout interactions during this section of the training day, covering how one employs and applies their Taan Sau, Bong Sau, Fook Sau and Huen Sau within Chi Sau practice. Capping off the Chi Sau training with the employment of Chi Gerk into the mix for a lively exchange of footwork patterns and some animated Chi Sau work to finish the day.
The casual environment matches the approach of the presentation and training, which is to be expected of a home video of training shot in someone's house. Practitioners and community members of Sifus Darrell Jordan and Paulo Lampis will find insights and expanded perspectives of what is covered during the video, and enjoy the fraternal bonding that comes from building, from the ground up, bridges of understanding, practice and a grassroots community.
Darrell Jordan – WVTAA 1995 Ving Tsun Workshop with Sifu Paulo Lampis
See this video on Everything Wing Chun Instant Access


Language: English
Running Time: Approx. 240 mins (4 hours).
Format: Digital Download
Availability: Everything Wing Chun Instant Access
Review by: Dwight Hennings