Sifu Benny Meng gets a handle on the iconic Luk Dim Boon Kwan ("Six-and-a-Half Point Pole") wielding his knowledge and skill sets with the device from Basic Concepts, Basic Movements, (Form) Sequence, and Concepts in exploring and unleashing the weapon's resources that develop ones practice further. This is a concise volume spanning 43 minutes runtime, making its points accurately and directly.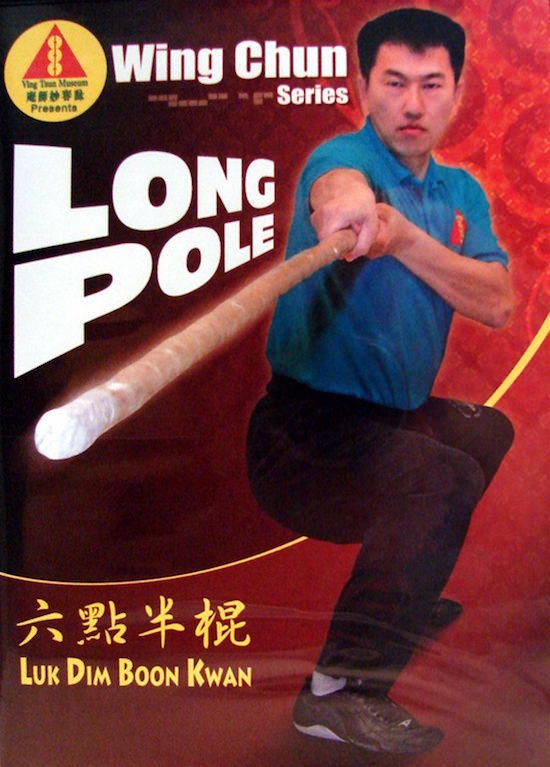 Sifu Meng starts things off with a few training drills that support preparation, and complementary, training of the pole with, "Empty Hand, Single-Hand, and Double-Hands exercises." The first shared is Kuen Jong which, although varying in name amongst various Wing Chun lineages, is a consistent one. The second works single-hand exercises geared toward developing one's strength to wield the weapon that will challenge one's wrist and arm strength in many ways. The third now finds the practitioner employing both hands beyond the limbs in fortifying one's upper, central and lower body strength and coordination stating, "When using two hands you must be able to use and express the body… with mechanics that are consistent". This section of the video spans only nine minutes and is rich in content to work on.
With the fundamentals in place, the centrepiece of interest takes the spotlight with the Luk Dim Boon Kwan pole form demonstration. Sifu Meng handily plays through the Six-and- a-Half Point techniques with conviction, control, and power to offer an example high capacity output of where one should strive to work towards. The form is shown in a variety of angles for perspective and for the audience to dissect in detail. The pole form, in and of itself, is just a form. The instructor moves forward with exploring the Basic Movements, Stances, Footwork, and Techniques that unlock the practitioner's, not the weapon's, potential in empty hand or armed combat from training with the device. Each aspect is covered succinctly and articulately staying true to Wing Chun's virtue of keeping it simple and uncomplicated.
The section offers PowerPoint as a visual aid in support to drive home the points of each message and offer in text the relative terminologies in both English and Cantonese. This section obviously occupies the majority of the runtime due to the importance of the information and demonstrations provided.
Sifu Meng hits the mark in putting the pole to work as an individual practice. Although partner drilling is not demonstrated in this volume, it clearly communicates the message that one should be proficient in their individual practice before looking beyond the importance of developing sound fundamentals. Get a grip and get your hands working with this piece in your library to expand your perspectives to reach new training targets.
Benny Meng VTM Series 09 – Luk Dim Boon Kwan – Wing Chun Long Pole
Language: English
Running Time: Approx. 1 hours 0 minutes.
Format: Digital Download (or DVD)
Availability: Everything Wing Chun + Instant Access
Review by: Dwight Hennings
Link to EWC: https://www.everythingwingchun.com/VIDEO-Ip-Man-Wing-Chun-9-Luk-Dim-Boon-Kwan-p/dvd-vtm06.htm
Links to Digital Store: Preview this video on Everything Wing Chun Instant Access