Here we have yet another DVD focusing on the infamous "Concrete Arena," where we all know that "no rules apply." But does this release offer any more information than has already been covered in depth on other DVDs?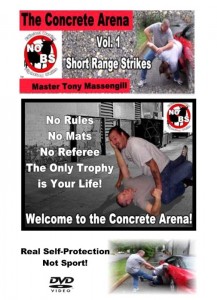 What Tony Massengill aims to do is demonstrate how Wing Chun striking can be used in a street fight situation.
First up are short-range attacks, with emphasis on using the shoulder to generate power, initially by using a focus target and then giving demonstrations with a static partner. Bridge contact is also covered here with some good advice relating to open hand and incidental strikes. This section was my favourite part of the DVD, mainly because the techniques were workable ideas at the Extreme Close Quarters range.
There is clearly a Bruce Lee influence, with some of the techniques looking more like Jeet Kune Do than traditional Wing Chun, but that isn't necessarily a bad thing.
Edge of hand, finger and elbow strikes are also covered, but still with a static and compliant partner, which is a shame because it would have been nice to see these techniques shown in use with someone who fights back. As this DVD is Volume 1 in the series, I won't comment on the lack of multiple opponents or weapons training as these may be covered later in the series.
The DVD is easy to follow with various camera angles allowing us to see the full range of movement, but the sound quality could be improved—especially in this digital age.
All in all, this DVD serves as a good introduction to the basic Wing Chun concepts and their possible use in the Concrete Arena but doesn't really offer anything new.
Buy at EverythingWingChun.com
Language: English
Running Time: Approx. 49 min.
Format: NTSC
Region: 0
Number of Discs: 1
Availability: DVD & Everything Wing Chun Instant Access Download
Review by: James Woodcock