There is nothing more exciting than receiving an unexpected present through the post. But when that present is the new Gary Lam DVD, you know it is going to be a good day.
From the outset, this DVD gives an excellent introduction to the Siu Nim Tau form by Gary Lam himself, where he whets our appetite by telling us that he will be covering the form in detail and that it will not be complicated or hard to learn.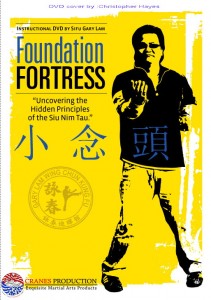 Starting with Section 1, Gary gives an in-depth analysis of the stance and how this supports us in using explosive power. This is followed by showing the correct positioning of Taan, Wu, Fook and Paak Sau.
Section 2 focuses on internal power and Section 3 deals with chance actions and learning how to change. All of this knowledge is backed up with demonstrations of the fighting applications in a clear and easy to follow manner.
For me, the next part of the DVD was the most informative. It looks at the Six Basic Actions to improve your Siu Nim Tau training. Gary and his student Dimitry introduce important aspects of the stance, such as how to pivot with correct weight distribution, Side Punching, Kwan Sau and much more.
To finish off, we get bonus footage of a 2009 seminar in Burbank, California where Gary explains even more details of the Six Basic Actions.
This is an excellent instructional DVD where the makers have really made an effort with the ease of learning and fluent way it is presented. Cranes have done it again.
Buy at EverythingWingChun.com
Language: English
Running Time: Approx. 80 min.
Format: NTSC
Region: 0
Number of Discs: 1
Availability: DVD Download
Review by: James Woodcock