Sifu Sam Chan is a 2nd generation Master Instructor in the Ip Man Lineage of Wing Chun Kuen under Grandmaster Ip Ching of Hong Kong, and it is quite obvious from his demonstration of the Sil Lim Tao form in this video that he has achieved a high level of skill and understanding in this ancient fighting art. Sifu Chan demonstrates each movement of the Sil Lim Tao slowly and precisely as it should be, then goes on to explain the theory behind each movement. This is something that many modern Wing Chun teachers rush through.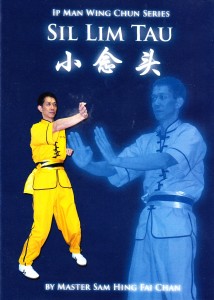 One of the things that I really like about Sifu Chan is the humble and elegant way in which he goes about demonstrating and teaching Wing Chun — he personifies the traditional Chinese Kung Fu master. It is my opinion that the Sil Lim Tao is the most important form of the Wing Chun system since it contains all the hand techniques and most of the basic fighting theories. Sifu Chan has done an excellent job presenting all the basic skills that one would need to practice at the beginner's level and provides a solid foundation on which to build towards mastery of the Wing Chun system.
Technical Review:
DVD Length: 35 Minutes
Display: NTSC
Region: 0
Type: DVD-R
Language: English (No Subtitles)
Video Quality: High (Professional Production)
Audio Quality: High (Professional Production)
Content Review:
Introduction
Stances
Punching Drills
Chain Punching
Long Bridge Punch
Pad Striking Drills
Resistance Training
Sil Lim Tao Form (Front View)
Sil Lim Tao Form (Side View)
Sil Lim Tao Form (Section by Section; Close Up View)
The Sil Lim Tao as taught by Sifu Chan and the International Wing Chun Martial Arts Association (IWCMAA) is divided into seven sections to aid the student in learning.
Section One (Movements and Theory)
Section Two (Movements and Theory)
Section Three (Movements and Theory)
Section Four (Movements and Theory)
Section Five (Movements and Theory)
Section Six (Movements and Theory)
Section Seven (Movements and Theory)
Applications
Chun Chiu
Pak Sau
Lop Sau
Gum Da
Lop Da
Bon / Lap Da (Punch)
Dan Chi Sa (Single Handed Sticky Hands)
Basic Theory
Basic Movements
Rolling and Switching with Huen Sau
Single Hand Chi Sau Drills
Review by: Todd Taganashi
DVD Bought on: Everything Wing Chun : http://www.everythingwingchun.com/sam-chan-wing-chun-dvds-books-s/40.htm
This DVD is also available for download on Everything Wing Chun Instant Access