Sifu Fernandez has just released a new DVD entitled Wing Tchun Do. His unique blend of Chu Shong Tin's Wing Chun and Leung Ting's Wing Tsun added to 20+ years of bounching and body-guard work make this a DVD not to be missed! With over 3 hours of content, you will learn something with this one!
The first ever complete video of WingTchunDo!
Wing Tchun Do, could it be a missing link in the martial arts?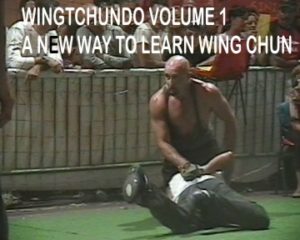 Wing Tchun Do is a system that connects many systems of martial arts together. Who studies Wing Tchun Do will be able to better understand the mechanics of almost any martial arts. We feel that it's a bit like a missing link, a link which with its working methodology helps you to relate and respect all true combat and martial arts systems and work them better with a unified working methodology.
– The most complete and dynamic explanations!
– Definitely the most honest, direct approach to Wing Chun ever seen!
– Highly ranked Wing Chun Master with over 37 years experience!
– Commenced practicing Wing Chun in 1972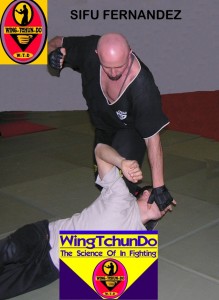 – A full video offering training modules improving chi sao,
– Improve Reflex training, body structure and alignment!
– Plus street wise body and mental conditioning!
– Direct opinions and perspectives of real world self defense from a highly qualified master and expert in security.
– ALSO first time ever HONEST perspectives of street defense from a LOCAL MMA CHAMPION RANKED NUMBER 6 IN THE FIGMMA ASSOCIATION.
NOT TO MISS!
——————-
Brief Biography: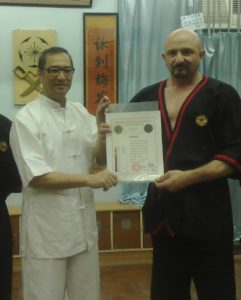 Fighterman (Sifu Fernandez) began his martial arts training in 1972 under the direct Yip Man Lineage of GM Tsui Shun Tin in Australia. He trained with great passion and dedication under the late Sifu Jim Fung from 1973 till the early 1990's. He had the opportunity to see other lineages such as Master Wong Shun Leung, William Cheung and in the early 80's attended many seminars such as noted martial artists such as Guru Danny Inosanto, Sifu Nino Pilla, Master Vince Palumbo and others. To further satisfy his curiosity in combat he was able through the guidance of these teachers learn the fundamentals in Kick Boxing, boxing, basics in Greek roman wrestling, stick and knife fighting from the Doce Pares system. He then travelled abroad and learnt boxing in which he trained for many years and also participated in various amateur bouts. He was fortunate enough to have trained with serious boxing professionals with the Italian Fernet Branca team. He also then learnt a variation of Wing Chun from noted Wu Shu master Sifu Cangelosi in Italy Genoa, in which he studied for approximately 2 years. When he came back to Australia he began in 1992 the GM Leung Ting Lineage under Sifu Stefan Fischer and became his personal student for 7 years. He moved back to Europe and then became personal student of Sifu Cuciuffo, Grandmaster Keith Kernspecht and then finally moved on to becoming GM Leung Ting's private student in which he moved back and forth to Hong Kong for about 3 years.
In that period he also had the opportunity to learn directly under the second highest ranked Wing Tsun master in the world Master Chen Chuen Fun.
He has also had the privilege to learn under many masters that completed the Wing Tsun system such as noted Sifus, Delisio, Sifu Cesana (to whom he learnt the wooden long pole, and learnt the Bart Chum Dao directly under Sifu Stellato in Caserta Italy.
He has regular contact with many martial artists from different arenas such as Sanda, and people who compete regularly in the MMA competitions. He is good friends with noted MMA light heavy weight champion Antonio Saracino, who recently was ranked sixth in the world in the FIGMA statistics.
Sifu Fernandez has for about 17 years (and is still) working as a night club bouncer. He has, on many occasions been a personal body guard.
SECURITY FOR MASTER LEUNG TING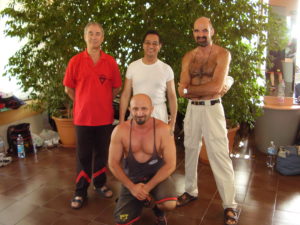 Sifu Fernandez was noted as being personal bodyguard to GM Leung Ting during a difficult court case in which he eventually triumphed as victor.
His hands on experience and street smart applications made him do many years of research in close range combat. He eventually developed Wing Tchun Do which is a global application of the Wing Chun and Tsun systems. He now terms his system as an approach to apply 'Global Chi Sao' meaning that he shows how most fighting systems can adopt the 'Chi Sao' fighting application from any angle, position and weight distribution. Fighterman in approximately 2005 was one of the first foreigners to be invited into China to show his Wing Tchun Do system and on YouTube there are rare footages of his seminars. He has over 2000 videos of his daily training and many of his journeys into Beijing China and Hong Kong.
He intends to make his online videos available to everybody and teach the whole Wing Tchun Do system.
http://www.everythingwingchun.com/Sifu-Fernandez-Wing-Tchun-Do-p/fer01.htm