Blog Post by EverythingWingChun customer, John Cook. – Thanks, John!!
Ok! Here are the parts needed to make your own wing chun spring-arm trainer. This is my 2nd attempt and both turned-out awesome! I built my 2nd spring-arm in one evening after work, it doesn't require an engineers degree.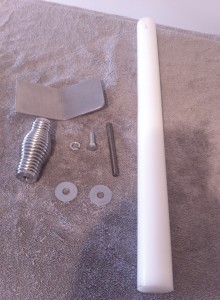 First you'll need to order the spring, part # AUC30 from Access Electronics in Bushnell, NE. (Im sure they aren't the only suppliers for this spring, it's a CB antenna spring). They are $15 each and $10 for shipping. They sent me 2 and only charged $10 for shipping them both to me, a good deal I think. The spring is threaded on both ends almost 1″ deep with 3/8-24 threads. You will need a 3/8″ lock washer, 2 3/8-24 nuts, 2 fender washers 3/8″ X 1 1/4″, a 38-24 X 1″ bolt, and a 4″ length of 3/8-24 allthread rod. This allthread rod size is not a normally stocked item in the major box stores, you may need to find a machine shop that has it, I did. That same machine shop also cut and bent 2 pieces of stainless steel 3″ X 6″ 3/16" at a 45 degree angle (with 3″ on each side of the bend) as shown in the picture. They cut and bent the two steel pieces of stainless steel and cut the two 3/8-24 rods for $22, so $11 for one spring arm, a good deal. (Remember, stainless steel looks great when buffed-out but it is very hard to drill. Using mild steel and painting it is not a bad idea.) The arm is white UHMW, 18 3/4″ long X 1 1/2″ diameter. I paid  $40 for a 4′ piece of scrap, enough for 2 arms easily. Buying it about 4″ longer is a good idea in case you make a mistake when drilling the hole for the allthread, you can simply drill the other end and cut off your mistake, I did this on my 1st arm. Using UHMW in 1 1/4″ diameter intead of 1 1/2″ would also work, so would using Delrin or one of the many Nylons. I did not have access to these materials but I'm sure they would be OK.
2nd step. This is a picture of the 1 1/2″ diameter UHMW plastic rod in a vice. You can see two nuts (3/8-24 thread) and a lock washer on the end of your 4″ piece of 3/8-24 allthread. This how you "screw" the allthread into the plastic rod. It cuts it's own threads as you "screw" it into the 4″ deep hole you drilled into the end of the rod. I used a drill bit size of 21/64 but a 11/32 will work OK too. Be sure and drill the hole at least 4″ deep and get it as "square" as possible. I sorta chamfered the edge of the 21/64 rod hole with a razor-knife in order to "start" the rod into the hole. It's a very tight fit, it needs to be. You won't need the 2 nuts for the remainder of this project but you will need that lock washer.
Picture 3. This is the rod (spring-arm) with the allthread installed. Leave 1″ of rod showing, that's plenty of depth screwed into the spring even after adding the fender washer.
Picture 4.  We are ready to assemble the spring-arm. Notice the stainless steel angle bracket is already drilled. I also show the 1″ bolt in the bracket, it's lock washer is there too but not on the bolt, in the final assembly be sure the lock washer is on that bolt. The holes in the bracket are fairly straight-forward. The 3″mounting" holes are 1/4″ and you don't need to be very concerned about the spacing, it will depend largely on what/where you mount your spring-arm. Use your judgment in your own application. The 3/8″ diameter hole for the base of the spring is in the center of the lower bracket leg and 1 1/2″ from the end.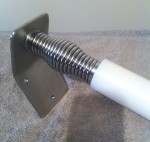 Picture 5. This is a picture of the UHMW rod mounted to the spring and the spring mounted to the angle bracket. I put the fender washers on both ends of the spring, between the rod and the bracket. I used Blue Locktite.
Picture 6. A picture of the entire spring-arm fully assembled! The end of the spring-arm should be rounded, to protect you from injury in case you accidentally contact the end of the arm during training. A later picture shows the arm rounded. I used a hand grinder and shaped it. Sweet.
Picture 7. This is the everythingwingchun 2-section rice bag I used for both of my projects, mounted to a piece of  1 1/8″ plywood under-layment. The spring-arm is not mounted yet.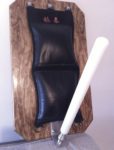 Picture 8. This picture shows the correct position of the spring-arm in relationship to the rice bag. After experimenting a bit I feel this is about right. Your opinion may lead you to change the position you mount the arm but this is a good starting point. I chose this style/type of rice bags because I already had the bags and knew that I liked them. Sweet.
Picture 9. Final picture of our project. This is a frontal view. I tried different lengths of UHMW rod before I settled on 18 3/4″ in overall length. Lengths of 1″ on either side of this didn't make that much difference. The most significant difference comes from the height your mount the entire unit. I mounted my finished trainer so that the rod is roughly at the bottom of my chin, a little higher or lower didn't change much. I am 6′-1″, so this height may be too tall for people who are shorter. You may find a different height is more right for you. Experiment. In our kwoon we mounted the unit slightly lower than the one I have at home and the rod is 3/4″ shorter as well. This seems to work best for most of us in our class.
Congratulations on your finished project!
Good luck! Train hard!
John Cook