This DVD came to me in a clear plastic box and features a DVD-R of a seminar given by Chu Shong Tin, which took place on August 24, 2003. The lack of a proper cover may disappoint the consumer looking for a nice title to add to his collection, but the Wing Chun purist will be more than happy with what is actually on the disc itself. [EWC Admin Note: Since this was written the DVD started shipping in a full DVD case, so the comments about the plastic cases no longer hold true.] This title focuses on the Siu Nim Tao and Chum Kiu forms with the last programme focusing on Chi Sao.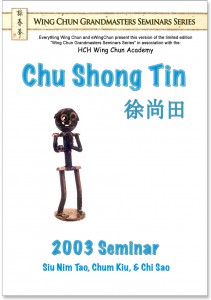 The first thing you should be made aware of regarding this DVD is the length—it is very long! Each section of the seminar clocks in at over an hour. So there is a lot of information here. The knowledge of Chu Shong Tin is evident, as he takes us (via an interpreter) through each of the forms in extensive detail. The quality of the sound and video are very good, although it does get quite hard to concentrate because of the interpreting process.
For the beginner, this DVD may be a bit much to handle, but if you look under the surface of this great product, you will discover some fantastic insights in the Wing Chun of Chu Shong Tin.
Tip: there is a complete breakdown of the whole seminar at www.EverythingWingChun.com. This is really helpful, especially to the non-Chinese speaker.
Buy at Everything Wing Chun
Language: Cantonese with English interpreter
Running Time: Approx. 180 min.
Format: NTSC
Region: 0
Number of Discs: 1