According to Wing Chun history, Moy Yat was one of the few disciples who actually completed the entire Wing Chun system under his Sifu, Grandmaster Ip Man. This DVD focuses on the Muk Yan Jong, or as it is more commonly known, the Wooden Dummy.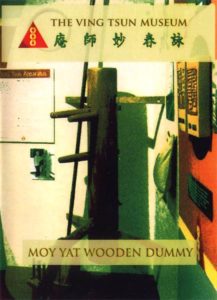 The back cover of the DVD states: "This is rare footage that every Wing Chun practitioner must have in their collection," and rare footage pretty much sums up the image quality of this title, because it has clearly been scanned from an old VHS and the capture is very grainy.
So what do we get?
Well, we get a brief introduction to the Wooden Dummy, which in itself is quite interesting. We are then taken through each of the eight sections of the dummy form in minute detail, with the applications of each movement demonstrated by Moy Yat with one of his students. The DVD continues with the late William Moy (Moy Yat) performing the form in full, interspersed with some nice anecdotes about his time training under Grandmaster Ip Man. This is good stuff.
Buy at EverythingWingChun.com
Language: English
Running Time: Approx. 40 min.
Format: NTSC
Region: 0
Number of Discs: 1
Review by: James Woodcock