Quick Summary:
This video provides instruction in the "Baat Cham Dao" – Wing Chun "Butterfly Swords" Presented by Sifus Taner and Graziano. The form is presented in eight sections. This training video runs a little more than an hour (1:19) and teaches the Double Butterfly Sword Form or Baat Cham Dao. Each training set highlights an essential movement or hand technique from Wing Chun's three traditional forms.
Comments on Production:
There was some background noise plainly audible as the videographer, was adjusting the camera for the next shot. It did take away a degree of the production's professionalism. But I found it tolerable, however, nothing lost in the production's quality of instruction.
Review Comments: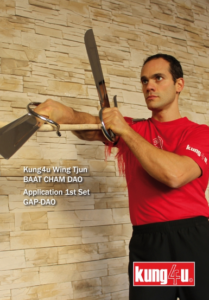 They clearly show, how one could seriously injure themselves, if a movement is done incorrectly while performing parts of this traditional double knife form. Caution is important particularly, when one is practicing and moving two sharp weapons in close quarters! It's a safer method in learning the set and shows no lost in technical efficiency and effectiveness.
What I had found most interesting, in the Sifus presentation, was not necessarily the double Knife form itself, but the emphasis placed on maintaining, joint structure and alignment in moving throughout the forms sequence. The Sifus stressed from the beginning, how important this training is… It is the foundation for all Chinese martial arts or Wu Shu, which allows for one smaller in stature to increase and express internal power. The ability to turn properly and anchor or root at the right moment cannot be over emphasized. Otherwise, ones application in technique, when executed would be essentially empty.
This is an excellent video, because the Sifus, had discussed the importance of one's moving structure, which is an essential training point; some teachers rarely highlight. Many beginning students are under the impression that if you're able to perform, lots of fancy movements, they have the skill of Wu Shu. However, proper training starts, not from the top down, but the bottom up! I was happy to see, the Sifus emphasize this essential point from the beginning of their training video.
Review Specifications:
Reviewer: George Hernandez
Presentation Title: Baat Cham Dao Form
Presenters: Sifus Taner and Graziano
Date: February 27, 2015
Technical Specifications:
Language: English
Format: DVD or Digital Download
DVD Format: NTSC Region 0
Resolution (download only): 720p
Running Time: 1 hour 19 mins
Ratings (1-5 scale):
Sound Quality: 4
Video Quality: 4
Total Production Score: 8
Subject matter: 5
Instruction Quality: 5
Total Teaching Rating: 10
Reviewers Rating: 5
Total Score: 23/25= 92%
Want to learn more or buy the video?:
Buy Now From Everything Wing Chun Instant Access
Buy the DVD Now From Everything Wing Chun