Breaking down the prevailing perceptions of exclusivity of the system's third empty-hand form into Chi Sao drilling and application, Sifus Taner and Graziano present another hi-def video submission to their instructional series, with two chapters running at about 38 minutes for Section 1, and 49 minutes for Section 2.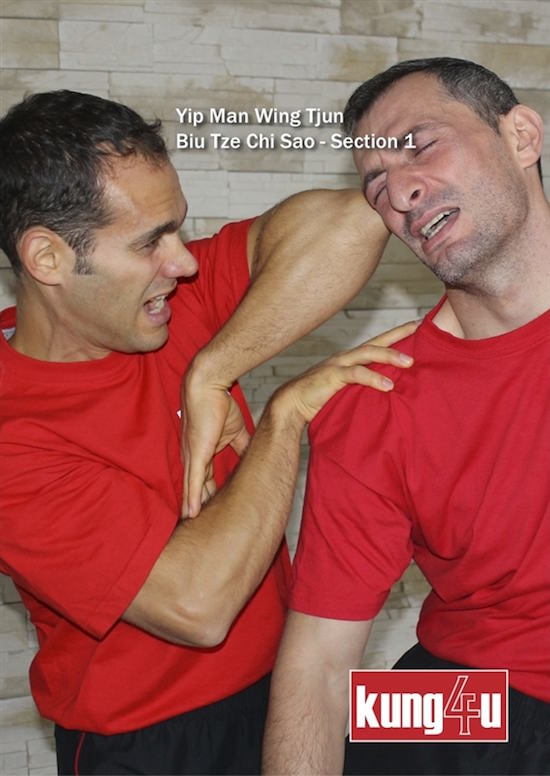 After a brief introduction, the two Sifus come together to connect bridges and the audience to the actions within the Biu Tze form, their intended functions and, in particular, the relative form's applications are specifically for scenarios and situations out of the ordinary or where one finds themselves disadvantaged. They are also careful to note that, because the training for these situations is unconventional, one must, "not be stuck in the form… (but) to learn the way of thinking", to hone the tools through drills and training to put them in application, especially where the confrontation has resulted in an opponent that has compromised one's space.
Taner and Graziano impart the potential of the elbow strike played in the third form for the first of the two chapters. Also, what their potential follow-up moves may be, the potential threats to know of in application, and that there is a functional solution to managing your training partner and would-be opponent, when confronted with those same techniques. Simple lines of attack, response and blocking actions are expanded upon to evolve the potential of the engaging and responding parties.
Moving on to the next chapter, the demonstrators work quick darting actions and application into the Chi Sao mode, communicating that one must break from conventions to expand one's understanding and practice. A sentiment supporting the message again that Biu Tze is addressing precarious situations, which will provoke one to continue to think outside the box because "the (opponent's) idea is to always attack me".
The presenters cover what they regard to be the most effective actions in the once perceived guarded final empty-hand form of the system, regarding them to be the most common responses from Wing Chun, Ving Tsun, Wing Tsun, etc. practitioners and what would be the most common reflex reactions. Both of those with martial arts training and those whose aggressive intentions as an attacker would wield as a potential threat.
With two chapters in the vaults for this video, there is a consistent sharing from the tandem presenters of supporting information, concepts, context and words of encouragement, addressing a practitioner's learning and training curve. Cutting out the conventional reliance on demonstrate form, explain form, the application of form, opting for the how-to behind the what. Pointing their fingers in guidance toward the potential of practised and practical employment of effective techniques with a logical mindset beyond the comfortable constructs of sticking to convention, to the variety of possibilities within from form to function.
Sifu Taner & Sifu Graziano – 11/12 – Biu Tze Chi Sao 1 & 2
Language: English
Running Time: Approx. 1 hour 25 mins.
Format: Digital Download
Availability: Everything Wing Chun Instant Access
Review by: Dwight Hennings
Link to EWC: https://www.everythingwingchun.com/DOWNLOAD-Taner-Graziano-Biu-Tze-Chi-Sao-1-2-p/y-tg12.htm
Links to Digital Store: Preview this video on Everything Wing Chun Instant Access