Based in Spain, Sifu Salvador Sanchez's submission to the instructional DVD universe takes a 69-minute look at what he and his TAOWS Academy present as advance knowledge and techniques in their Wing Tsun system following, "an outline that (they) do in classes, seminars, and workshops." Do not despair, non-Spanish speakers, as this standard definition to digital media video is overdubbed with an English translation to accommodate a greater audience base.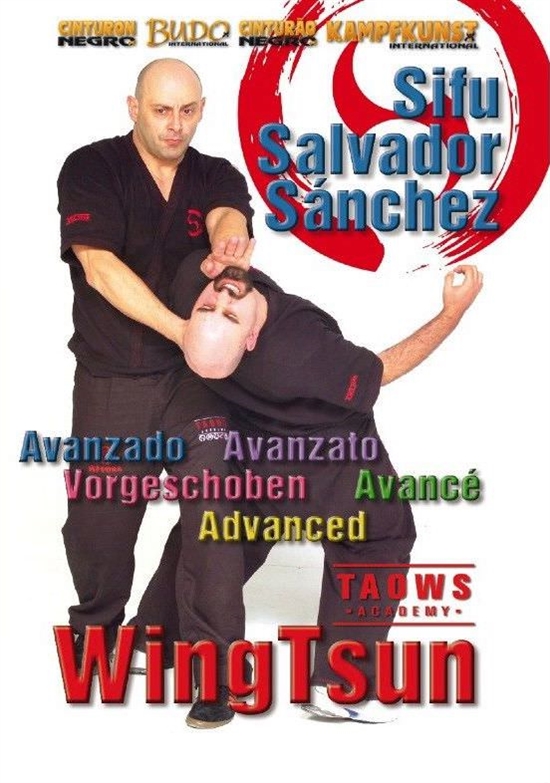 Quoting Bruce Lee, Sifu Sanchez shares, "that you learn how to fight through fighting." However, a practitioner must start somewhere. Fundamentals established through the system's first form have been covered in another volume, so this one jumps ahead to the Wooden Dummy—following an extensive monologue by the instructor. Two students play the sequence of techniques in the first two sets of the form as an "Air Dummy" performance that is without the training device itself. The audience is then introduced to live applications via, "combat positions," with different lines of attack designed to directly reinforce the specific applications withdrawn from specific parts of each section.
Deconstructing from the live punch and defend constructs, the sections of interest are played via the traditional platform of Wing Tsun practice through Chi Sau. Concisely addressing and entertaining the equilateral range of engagement that such training provides for both parties and the resources of the arms and legs to develop the sensitivity and timing required to play them with control. Then, the footwork is extracted from the form, worked independently, then in cooperation with a training partner with many angles and positions of engagement through flow drills.
"Traditionally, no one explains what could happen during a fight," continues Sifu Sanchez. And this section of the video aspires to address many probabilities of danger that one is subject to in combat starting from the most basic engagement as a chest push to squaring off with the would-be attacker.
The intensity of practice is always on high gear in demonstration and interaction doing service to stimulate the elevated levels of anxiety that one is subject to in training. Consequently, the techniques can translate well when confronted in a real-life situation. Thus, expanding further on the fundamental system concept of facing to also address confronting one's opponent and fears when the fight is on.
This video flows fast and furious from stage to stage with a flurry of activity that will keep the viewer's finger on the review button. Sifu Sanchez opts to share his skill sets effectively and proficiently in demonstration. The piece offers a structured format for one to follow to evolve from first engaging to finishing an opponent, offering an inspiring, high-energy addition to his series of videos. The secondary narrative track does well to communicate the presenter's message through the universal language of combat that knows no boundaries despite borders flying the fight flag high.
Salvador Sanchez – TAOWS Academy 02 – Advanced Wing Tsun
Language: English
Running Time: Approx. 1 hours 9 minutes.
Format: Digital Download
Availability: Everything Wing Chun Instant Access
Review by: Dwight Hennings
Link to EWC: https://www.everythingwingchun.com/TAOWS-Academy-02-Advanced-Wing-Tsun-p/ewc_taowsacade02-800.htm
Links to Digital Store: Preview this video on Everything Wing Chun Instant Access