Continuing with the analogue to digital conversion release of one of many volumes of the late Sifu Moy Yat's video releases is this submission of an oral history of Ving Tsun Gung Fu as his scholastic and personal accounts have revealed. What could be weeks of conversations enjoyed over tea is condensed into a concise 75-minute runtime, regarding Sifu Moy's history of involvement in the celebrated Chinese martial art.
Moy Yat was also known as a passionate scholar of the system and a preservationist of traditional Chinese implements that complement the rich history in calligraphy, the Kuen Kuit (Ving Tsun Fist Parables Chops), and now in modern technological format through video, with excerpts of archival video footage from his own collection, sharing his perspectives in an oral and visual history form to the viewing audience.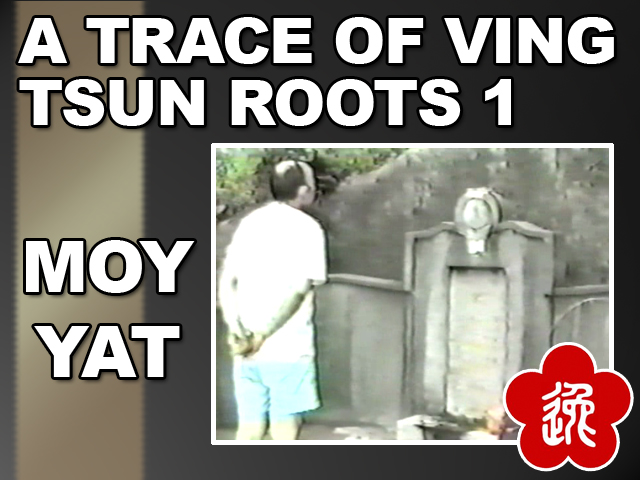 Miguel Hernandez, student of Sifu Moy Yat, prefaces the content of the video with a brief history of special moments shared with his Sifu, regarding the enriching experiences shared through the student/teacher relationship and the travels shared when visiting Hong Kong as a group to provide physical context to those stories. With introductions made, the storyline travels with GM Ip Man's history of propagating Ving Tsun from Foshan to Hong Kong and beyond.
The journey begins on the streets of Hong Kong, in 1973, at a farewell and safe travels banquet for the move to New York City for the late master, taken from vintage Super 8 film reels. Many friends, family, and Ving Tsun brothers, such as Sifu Leung Sheung, Sifu Wong Shun Leung, Sifu Chu Shong Tin, Sifu Leung Ting and Sifu Ip Ching and Ip Man's Foshan contemporary, Sifu Jiu Wan are included.
Pivoting the storyline, the walking history tour of the streets moves toward Ip Man's story of simple beginnings at a local Buddhist temple, where he had begun teaching small interest groups, and covering the several places of residence the revered Grandmaster lived until settling into his new life and successes in Hong Kong.
The pilgrimage tour finds its way to the Ving Tsun Athletic Association in Kowloon, adorned with placards made by Moy Yat, which still hang on the walls today. Upon arrival, Wong Shun Leung and Ip Ching are heard and briefly recorded, debating which spelling of the late Grandmaster's name should be agreed to, as the formal spelling and other association interests were tabled in their meeting on this day.
Finally, the excursion finds its way spending the last third of this video visiting tourist and significant Ip Man sites in the ancient city of Foshan in Guangdong Province, China. Even through the non-high-definition footage used, as were the limits of videography, the footage shared is stunningly spiced with a sense of home-video kitsch, but with the added nostalgia of looking into Ving Tsun's recent and distant past through the eyes of those that walked its path.
Moy Yat – Trace of Ving Tsun Roots 1
Buy Download from Everything Wing Chun Instant Access


Language: English
Running Time: Approx. 75 mins.
Format: Digital Download Only
Availability: Everything Wing Chun Instant Access
Review by: Dwight Hennings