Admin note: Please read this post and chime in with your thoughts! A friend wrote this and we find it quite interesting as it falls in line with our own research on the matter. We want as many thoughts/comments as possible on the subject!
---
I was talking to a friend in Wing Chun who was telling me about this old woman; she was a Wing Chun grandmaster and contemporary of Ip Man, who took on all challengers and defeated all of them (armed or unarmed) with the 8 Wing Chun methods using just 1-4 movements. This was a mainland version of the art, and in a lineage that has all but died out.
These 8 methods were demonstrated in the swords form, on the dummy, and in empty hand fighting.
Having known that most Wing Chun lineages have 8 sets in the swords form, and having seen 8's other places in the system (8 methods of kicking for example) I started looking for what these "8 methods" might actually be.
What I found was surprising, and yet not surprising. No one can agree and everyone has different interpretations. Some people have 8 methods, some have 12.  Some have 8 sword techniques, some 8 sword methods, some have 8 sword cuts, and while some have 8 sword sets that have multiple methods and techniques within them. Still others say it is the sword protecting the 8 directions.
Also, Wing Chun culture (and Chinese culture) love the number 8. They make everything into 8 or a derivative of 8 (108 wooden dummy, 116 wooden dummy, etc. Notice there is no 97 wood dummy or 107, etc).  From different lineages you see 8 kicks, 8 kicking methods/principles, 8 energies, 8 power generation methods, 8 directions, 8 strengths (Lik's), 8 trigrams, 8 palm strikes, 8 concepts, etc, etc. And of course, if two lineages (even if both are under Ip Man) do have the same systems of 8, they almost never have the same 8.  And of course if you try to count these type things out on your own, you can't always get a clean count to 8.  Sometimes it is 6, sometimes 9…or 20.
So, that brings us back to the original question of, what are the 8 methods, or better yet – what were the original 8 used to by this old grandmaster to defeat all challengers with just 1-4 motions? We would like your input.
What we did at first is go through every Wing Chun hand we could think of and listed the ways it could be used.  And we used our own terminology, with clean modern definitions, to categorize these hands.  The thought was that if we go through everything and list how they can be used, maybe we will find that there are only 8 ways, etc.
So below is a list of 12 methods compiled from several sources, so you can see what is commonly out there.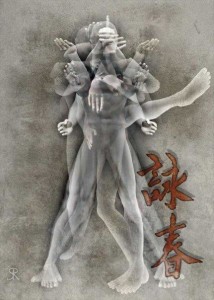 Biu/Bil:                   shooting, thrusting
Chi:                        sticking
Jeet:                       intercepting
Chit:                       slicing
Chum:                    sinking
Dart:                       joining
Dong:                     swinging
Kao Saat:               detain & kill
Lao / Tao:               leaking/stealing in
Mo:                         touching and feeling
Tun:                        swallowing
Tong:                      pressing
Then, this was our list so far, our top 3 maybe's, and all the ones under consideration:
Our Top Six Methods:
Inquiring/Listening
Covering
Pressuring
Trapping
Redirecting/guiding
Bridging/Connection.
Our Top Three "Maybe's":
Intercepting?
Circling/Flowing?
Attacking/Aggressive?
Under Consideration:
Wedging
Jamming/Barring (part of trapping)
Cutting
Sticking (part of pressuring)
Pushing (part of pressuring)
Pulling
Jerking (redirecting)
Replacing
Scooping
Sweeping
Nailing (Attacking/pressuring)
Lifting (redirecting)
Slapping (redirecting)
Deflecting (redirecting)
Corralling (redirecting/trapping) 
A good example of how we classified hands was with Pak and Tan and Bong.
From our list we analyzed Pak and initially decided this hand is capable of: Covering, Redirecting, Guiding. The other methods do not fit unless the Pak is merged with characteristics of other hands (for example, when you Pak an incoming punch, and then 'stick to' and 'press on' that punching arm…thus resulting in a Gum sau action).
We did the same thought process with several other hands (i.e. Tan, and Bong, etc) but you get the idea.
So what are these mysterious methods of Wing Chun? What modern-day WC Master can name them, explain them, and more importantly embody them? Contemplating this articles topic could have profound effects on your Wing Chun skills and deepen your understanding of what is typically a 'easy to learn, difficult to master' system of kung fu.
Wing Chun is a truly unique system of kung fu; being comprised of 'ideas' and 'concepts' (vs. "carved in stone" techniques) which can be molded and adapted to fit a multitude of threat situations…and…even everyday life itself.
A beginner level student in the system may not hear of this for some years into their study, others have been in the system for many years and still do not have a firm grasp of this topic. Sadly, these ambiguous methods have been shrouded in mystery, and this secrecy lends itself to the overall degradation of the finest system of hand combat ever to emerge out of China.
In one of the martial sayings of Wing Chun, it states that "the eight cut/chop knives have no equal" (or something similar to this). If this is true, then the methods contained within the knife form must be invincible.  So what are these all-powerful teachings? Are they simply a specific movement done by the knives (and therefore also with empty-hand combat)? Or do they transcend mechanical technique and are merely methods to be used when the time is right?
This article is meant to inspire deeper thought on this topic, as well as any input from readers out there in the global WC community. So, chime in with your thoughts on this and let's discuss these methods and concepts for the betterment of the entire WC world and so that future generations may enjoy this amazing system of Kung Fu.
P.S. – If anyone knows who created the photo used in this post let me know.  We see it all over facebook and Pinterest, but do not know the creator, and we wish to give them credit.