After about my first year in Wing Chun I became very interested in the history of the art. I read everything I could find on all of the lineages of Wing Chun – both online and off. Yet, there was little to be found other than myth and legend when it came to the history of Wing Chun… and each lineage had different versions of the history – even very recent history. Skip forward 16 years and not much has changed… but it might soon. Ben Judkins, owner of the blog, Kung fu Tea, and Jon Neilson, chief instructor at Wing Chun Hall, have put together the first true academic work on the history on Wing Chun.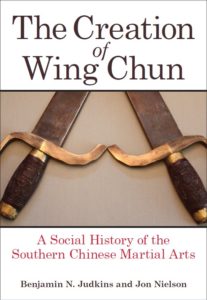 Their new book, The Creation of Wing Chun, A Social History of the Southern Chinese Martial Arts, "explores the social history of southern Chinese martial arts and their contemporary importance to local identity and narratives of resistance… They examine the emergence of Wing Chun to reveal how this body of social practices developed and why individuals continue to turn to the martial arts as they navigate the challenges of a rapidly evolving environment…"
This 348 page book is quite deep. The first half covers southern Chinese Martials Arts in general and looks at hand combat, identity, and civil society in Guangdong from 1800 to 1949. Personally, I found the chapters covering Wing Chun's history from 1900-1949 quite interesting. If you have a chance to check out this book please do so. I will note that this is an true academic work, not intended for mass consumption… but if you love Wing Chun, like we do, then this is a must-read.
List of Maps and Figures
Acknowledgments
Introduction
Part I: Hand Combat, Identity, and Civil Society in Guangdong, 1800–1949

Growth and Disorder: Paradoxes of the Qing Dynasty
Setting the Stage: The Evolution of Guangdong's Martial Arts, 1800–1911
Northern Tigers versus Southern Heroes: Local Identity, National Reform, and the Golden Age of Guangdong's Martial Arts, 1911–1949

Part II: Conflict, Imperialism, and Modernization: The Evolution of Wing Chun Kung Fu, 1900–1972

The Public Emergence of Wing Chun, 1900–1949
Ip Man and the Making of a Modern Kung Fu Master

Epilogue: Wing Chun as a Global Art
Notes
Glossary
Works Cited
Index
Benjamin N. Judkins holds a doctoral degree in political science from Columbia University. Jon Nielson is chief instructor at Wing Chun Hall in Salt Lake City, Utah.