Bruce Lee is still as popular now as he was before his untimely passing in 1973, so this DVD will need no introduction.
However, Bruce's fighting method, Jeet Kune Do, like Wing Chun, has had its fair share of political in-fighting over the years. Despite this, JKD is still vastly popular and it is clear from this DVD that what Lee showed on screen is a world apart from what he taught in his private classes.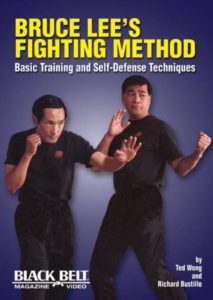 The DVD is presented by Ted Wong (who trained with Lee toward the later stages of JKD's development, and became Lee's last major private student) and Richard Bustillo, the director and co-founder of the International Martial Arts and Boxing Academy in Carson, California. Bustillo is a Senior Instructor of Lee's JKD concepts.
The DVD starts with an easy to follow warm up and some good flexibility and strengthening exercises. The viewer is then taken on a detailed journey through the basics of the JKD system, from the guard position and footwork to power punching and kicking, with Wong and Bustillo looking as fit and aggressive as ever. This is what an instructional DVD should be: informative, easy to follow and full of demonstrations that are simple to copy and try out in your own training.
Lastly, we are taken through some choreographed but essentially workable self-defence techniques that round off the DVD in style. Despite no mention of the influence that Wing Chun had on Bruce Lee's Fighting Method, this is an excellent instructional DVD that provides an interesting introduction to the world of Jeet Kune Do.
Buy at Everything Wing Chun
Language: English
Running Time: Approx. 55 min.
Format: NTSC
Region: 0
Number of Discs: 1