Based on the "Everything Wing Chun Ultimate Wall Bag" design, these new wall bags from Buick Yip are top of the line! This bag is 100% high-quality leather on the outside, with an extra canvas lining on the inside to help protect the leather from wear. The top has a velcro closure. The metal plate on the top reads "Wing Chun" in the Chinese fashion.
FREE SHIPPING – The bag ships directly from Buick in Hong Kong.  Shipping is always by Air Mail and free to anywhere in the world.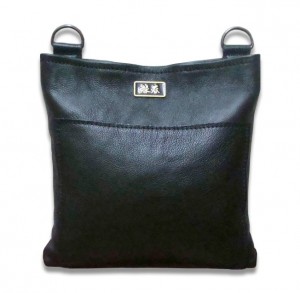 Bag Dimensions:
– Fill Area is 30cm by 30cm when empty (about 11.81 x 11.81 inches).
– Overall approx 12 inches wide by 13 tall.
Grab one of these limited edition bags today!
---
Wall Bag Features (see descriptions below for more details):

| | | |
| --- | --- | --- |
| Description: | This Bag: | Other Bags: |
| Version of bag | Version 3 | — |
| Number of sections | One | One |
| Main striking surface | Nappa Leather (High quality 1.5-1.8mm!) | Canvas |
| Heavy duty construction | | |
| High quality zippers | N/A – Velcro Closure | |
| Zipper at top of compartment | N/A – Velcro Closure | |
| Protective zipper flap | N/A – Velcro Closure |  – Rare |
| Extra-wide mouth | | |
| Reinforced seams | |  – Sometimes |
| Double layered striking surface | | |
| Double sided | | |
| Extra striking surface on rear |  – Single layer of leather only on rear | |
| One piece bottom | | |
| Traditional "Wing Chun" text |  – metal plaque |  – Sometimes |
| Heavy duty grommets | N/A – uses D-rings | |
| Heavy duty D-rings | | |
| Short straps | |  – Sometimes |
| Weight distribution bar | N/A | N/A |