Here is a good article warning about some cheaply made and dangerous swords currently coming out of China.
From https://kwansao.wordpress.com/2012/02/18/dangerous-wing-chun-swords-from-longquan/ :
"A Longquan sword maker is selling Bat Jom Do on eBay as "lqyanggu". I suspect this the retail website: http://www.yourswords.com/chinese-sword/chinese-traditional-weapons/wing-chun-knife-340.html
These swords are dangerous to the user! They look pretty but are very poorly constructed! Do not buy these if you value your fingers and eyeballs. The blade is not securely attached to the handle, and the handle is actually hollow. This is hidden with the cord that wraps the handle, so you won't even notice this critical flaw until they snap in half and you impale yourself.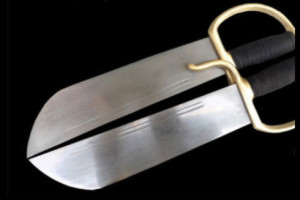 Additionally these swords are also being offered in "Damascus" steel, but don't be fooled. This is most likely an acid etching or cheap pattern welded "fake" Damascus. If you were to use them, you would find they won't hold an edge, or if struck against another object, the blade would chip extremely easily. If the forge does not bother mounting the blade securely, its safe to assume the steel is not forged or hardened properly and the structural integrity of the blade itself is suspect. This is a sharp carbon steel blade haphazardly attached to a guard and handle meant for display swords. Do not buy them unless you intend to hang them on the wall."
From the comments: "Here are also swords in the same exact pattern being sold by different retailers around the internet. It is clear that they are being mass produced in a Chinese factory. They also come in 'fake Damascus', black steel and regular carbon steel. While it's possible that the eBay swords were factory seconds, I would not chance buying a nicer pair of swords with a presentation box from another retailer, because they probably have the same inherent structural flaws as the pair that I purchased from the eBay retailer."
Please be aware. 99% of BJD coming out of China today are good only for hanging on your wall. Almost all steels are cheap quality and most are not what they claim to be.  Please be aware of what you are buying.  You should not go cheap when getting swords.  Thanks to the guys at the KwanSao blog for helping get this info out.