The new Wing Chun University™ app is officially up, and you can now download the lessons in HD 720p. The videos play within the app only, so you are limited to a Mac or PC to watch them (unless you output to a TV from your computer). The official launch won't be for a couple weeks, but we are allowing a few people to check it out. For a limited time (June 30th) you can get 10% off your first purchase with coupon code: WCULAUNCH
Visit the WCU today at: www.wingchununiversity.com
[youtube]http://youtu.be/yicNr5h9u4g[/youtube]
---
For those of you who don't know anything about the WCU yet here is a little info from the website (it's okay, we never advertised it much!):
About the Wing Chun University ™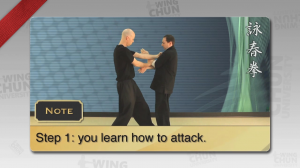 Since May 2007 the Wing Chun University ™ has striven to bring high-quality Wing Chun teaching to the world and make it possible for you to study this wonderful martial art even with today's busy schedules. The WCU offers practitioners the ability to supplement their Wing Chun instruction by using online training in conjunction with your live lessons. Or you can use WCU as your official Kwoon. Our courses teach the complete system by top Sifus. They come with a full syllabus and you'll learn everything from the open hand forms, the wooden dummy, butterfly swords and the proper techniques of the long pole. In addition, our world renowned Sifus are available for interaction through email, online forums and blogs.
I hope you enjoy, and find benefit in, our hard work.
Brief History:
Estab­lished in 2007, the Wing Chun University ™ (aka WCU and/or the University of Wing Chun) first spe­cial­ized in sell­ing Wing Chun "Home Study" and "Distance Learning" DVDs from a vari­ety of Sifus in con­junc­tion with Every­thing Wing Chun. At the time a very comprehensive and unique online training facility was conceptualized and put in development. After working with multiple developers and spending a lot of money the project was put on the back burner, mainly due to the fact the technology was not where it needed to be to see the vision through. So at that point the WCU moved to an online sys­tem of teach­ing via spe­cial­ized courses, which it did through Feb 2012. Today, the WCU is offering its courses through an appli­ca­tion that will allow stu­dents to down­load the High Definition 720p videos to keep and watch wher­ever they may go. In addition, the original vision of the WCU has not been forgotten and the development is continuing now that technology is catching up. We will be adding true online testing, virtual classrooms, live classroom streaming, and more as time goes on.
Mis­sion:
– To help develop and pro­vide the student with the best digital Wing Chun train­ing courses available.
– To help stu­dents mas­ter the art of Wing Chun Kung Fu as quickly as pos­si­ble.
– To keep the quality of teaching high by only working with the best teachers of Wing Chun.
– To provide at least one complete course per lineage/system of Wing Chun that teaches the student the entire system. This includes multiple Ip Man lineages and well as non-Yip Man lineages. (This is a huge project and will take many years, but over time this will include: Wing Chun, Ving Tsun, WingTsun, Wing Tjun, Weng Chun, Black Flag Wing Chun, Hung Fa Yee Wing Chun, Leung Jan Side-Body Wing Chun, etc, etc.)