Sifu Sam Chan has released a new 3 poster set covering the 3 Wing Chun empty hand forms: Sil Lim Tau, Chum Kiu, and Biu Gee. This is the first quality set of posters showing the forms from the Ip Chin lineage – a great addition to your school or home gym.
This 3 poster set details the first 3 empty-hand forms in Wing Chun Training. Siu Lim Tau, Chum Kiu, and Biu Gee are performed by Wing Chun Master Sam Chan.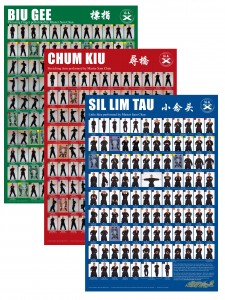 Poster Dimensions: 19″ x 28″
Number of posters per set: 3
Features: Full color, UV ultra high gloss, 100lb text gloss.
Siu Lim Tau, or the 'Little Idea', is quite meaningful with regard to commencing the study of Wing Chun Kung Fu. The characteristic of this set is to provide essential training for the whole body. When practicing this set, a student does not move his feet. The practice of SLT can be likened to the practice of meditation. The only difference is that when practicing meditation one is normally sitting, whereas in this set one is standing.
Chum Kiu, or the 'Arm Seeking' set, is an intermediate set for those who have already mastered certain basic Wing Chun techniques. Among other things you will add footwork to the forms.
Biu Gee, or the 'Thrusting Fingers' set, is regarded as the most advanced boxing set of the Wing Chun system. It is used mainly for attacking. This set includes techniques employing the stance, grappling, arm techniques, finger techniques and palm techniques, as well as three different types of elbow strikes.
You can find these posters here: http://www.everythingwingchun.com/Sam-Chan-Wing-Chun-Kung-Fu-Poster-Set-p/sc31.htm