After Emin Boztepe's interview in Issue 2 of WCI, I'm sure you would agree that he is an outspoken individual. But how does Punching Techniques stand up as an instructional DVD and what can it offer the Wing Chun student?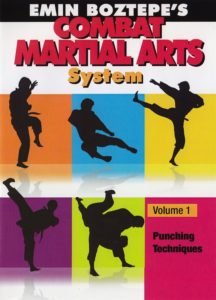 We begin with the obligatory introduction with Emin giving the viewer an insight into his background in the martial arts and also some basic Wing Tsun theories. This is kept short and sweet, and after only five minutes the action starts. Great stuff so far.
The majority of this DVD, as you would expect, focuses on WT punching techniques and how the WT fighter can use them against basic attacks. Some basic footwork is also included in this section, but for the complete beginner this may be a bit confusing as there just isn't enough detail concerning stance and structure.
There is also a lot of talking and, in my opinion, some more demonstrations and basic drills would serve the student better rather than just a lecture on how to use your skills. Don't get me wrong, there is some great advice on self defence and WT in general, but it all seems a bit rushed and comes across as a showcase for Emin's clearly effective skills as opposed to an instructional DVD. But there is a lot more to Wing Chun than just chain punching and it would have been more enjoyable to see some slower, more detailed explanation on how to use your punching correctly.
So, in conclusion, this DVD will be excellent for someone who is already training in the Wing Tsun system, but for anyone else, I believe there are more comprehensive works available.
Buy at Everything Wing Chun
Language: English
Running Time: Approx. 51 min.
Format: NTSC
Region: 0
Number of Discs: 1