Alan Orr is a renowned teacher who has been involved in Health, Fitness and Martial Arts since 1985 and is the European and Australasian Head of the Chu Sau Lei Wing Chun Association. Orr has trained with many of the leaders in their own fields, including Eddy Millis from the Shark Tank in Los Angeles. And Alan doesn't just talk the talk, he goes out with his Iron Wolves Fight Team and walks it.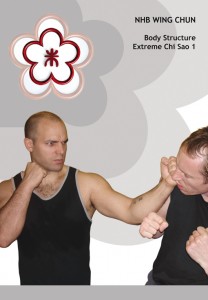 From the stomping drums that accompany the sparring sequences at the start, to the focus of Alan and his student once the learning process begins, you know you are delving into something serious with this DVD.
The DVD takes us through all the main concepts of Chi Sau, starting with the stance and then covering more advanced subjects such as power lines, correct rolling position, kinetic linking and rooting. The sheer amount of theory and Wing Chun fighting skills supplied on this DVD is overwhelming. It forces you to sit up and take notice and you will find yourself coming back again and again to extract even more information.
My only criticism would be the poor balance in sound levels between the incidental music and Alan's voice track. I found myself turning up the volume when he was speaking, only to be blown away by the tribal drums in each interval.
Alan Orr's knowledge of his system is unsurpassed and he delivers it to us with precision and passion. If you are serious about using your Wing Chun for real fighting, then this DVD is a must have.
Buy at EverythingWingChun.com
Language: English
Running Time: Approx. 67 min.
Format: NTSC
Region: 0
Number of Discs: 1
Review by: James Woodcock