If you are looking to get started with a Wing Chun wall bag, Jonathan Petree's video "Complete Wall Bag Training Regimen For Developing Striking Power" is an excellent video to watch.   He teaches everything from why you need to add wall bag training into your current regiment, to how to properly use your horse, to how to install it, to how to hit the bag and why.
What is the layout of the video and what will I learn?
The video is divided into 8 parts, each part teaches you something different or adds movements to help complete a series of combinations.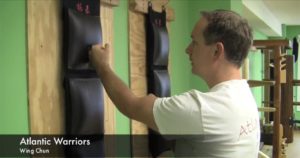 It starts out in his school located in Jacksonville Florida and explains to you the very basics of how to install your wall bag.  If you are not a handy type of person it is all good advice and he points out some useful information that will help you avoid destroying your home.   He tells you everything from the type of support it will need to the basic jest on identify the location of the studs in your wall.
If you are new to Wing Chun, he tells you how to hold your hands, what knuckles to hit with, and how to properly use your stance.  In short, everything you need to get your bicycle punches properly rolling.
Sifu Petree is quick to point out, that conditioning training should not be limited to your hands.  You should also take into account that you would train your defending positions (i.e bil sau,) elbows, and even knees.  Meaning, you can look forward to a number of different drills, not just 64 minutes of someone chain punching
What I really liked about it was he did not just throw 500 different possible combinations for you to fire away at your wall bag. Sifu Petree really took the time to explain why he decided to teach the combinations he selected for this video, which was mainly do to body reaction. For instance, if you punching someone in the solar plexus, the following attack should reflect his head or body mass bending forward.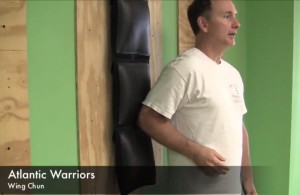 Another section I found very unique was that he explained how to attack someone who is behind you or holding you in a bear hug type position.  He was very clear about the proper angels required for such a counter attack and I was surprised to see someone standing with the back towards the wall bag, hammering their elbows to prepare for such a scenario.  More importantly, He teaches you the follow up attacks required to truly help you break free of such an attack.
How is the video quality?
Good. Sound is great, easy to understand.  The video itself is very clear and looks like it was shoot with an HD camera.
How should buy this video?
Someone who is starting the system would find this information very useful. There are a handful of drills in there that a more advance person would find interesting.   I have to admit, he brought a few angles I never put much thought into, and for that alone Sifu Petree's is video worth watching.
Personally, I really enjoy watching videos that teach you how to develop a single skill.   There are lots of videos that try to explain a little too much, often passing over the nitty gritty details or vaguely explain a Wing Chun form. This video was straight to the point, offered lots of actionable information, and was easy to watch.
You can find this video for sale here.
Jonathan Petree – Complete Wall Bag Training Regimen For Developing Striking Power
Buy now from Everything Wing Chun Instant Access
Language: English
Running Time: Approx. 64 min.
Format: 720p Download
Availability:  EWC Instant Access Download
Review by: Scott Moses