Quick Summary:
This is a straight-forward presentation of the basics in the Wooden Dummy Wing Chun form. The Dummy is a training apparatus used to sharpen one's skills in Wing Chun technique and applications. Study begins with a basic introduction of the Wooden Dummy's construction, the specific dimensions of the Muk Yan Jong's, leg and arm placements. Differences are mentioned about the Muk Yan Jong training post of Fushan in mainland China and that of Hong Kong. The form is shown from different camera angles and views offering a closer look at applications while they're being applied. The Dummy form is presented in 8 sections, showing specific applications associated with Wing Chun hand and kicking techniques. Grandmaster Kwok, Sifu Tony Massengill and student assistant demonstrate the wooden dummy form and techniques. This training video shows how the Wooden Dummy techniques, can be done incorrectly, consequently leading to undesirable results in actual application or practice.
Comments on Production: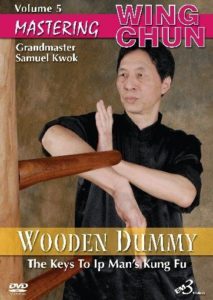 The presentation style of this video was filmed as most training videos of this genre. Nothing fancy, just enough detail, shown and explanation given for a viewer to recapitulate the movements and applications of the Muk Yan Jong form
Review Comments:
If a practitioner desires to learn the essentials of the Muk Yan Jong form, this video will provide the basics. However, some training videos on the Muk Yan Jong don't show or explain how power is delivered through structure and movement, Grandmaster Kwok, shows and tells what the critical movements needed for expressing power in the Wing Chun System.
Review Specifications:
Reviewer: George Hernandez
Presentation Title: Mastering Wing Chun – Wooden Dummy
Presenters: Samuel Kwok
Date: 5/15/2015
Technical Specifications:
Language: English
Format: DVD or Digital Download
DVD Format: NTSC Region 0
Resolution (download only): 720p
Running Time: 48 Minutes
Ratings (1-5 scale):
Sound Quality: 5
Video Quality: 4
Total Production Score: 9
Subject/Instruction Rating
Subject matter: 5
Instruction Quality: 4
Total Subject/Instruction Rating: 9
Reviewers Rating: 4
Total Score: 22/25 = 88
Buy Now From Everything Wing Chun Instant Access
Buy the DVD Now From Everything Wing Chun